OSHAWA – The City of Oshawa, in collaboration with the Hamilton-Oshawa Port Authority (HOPA Ports), is offering a new Lifejacket Loaner Program at Lakeview Park Beach. Community members are reminded to check the Region's posted beach closures at Durham.ca/beaches prior to their visit and to follow safe swimming guidelines.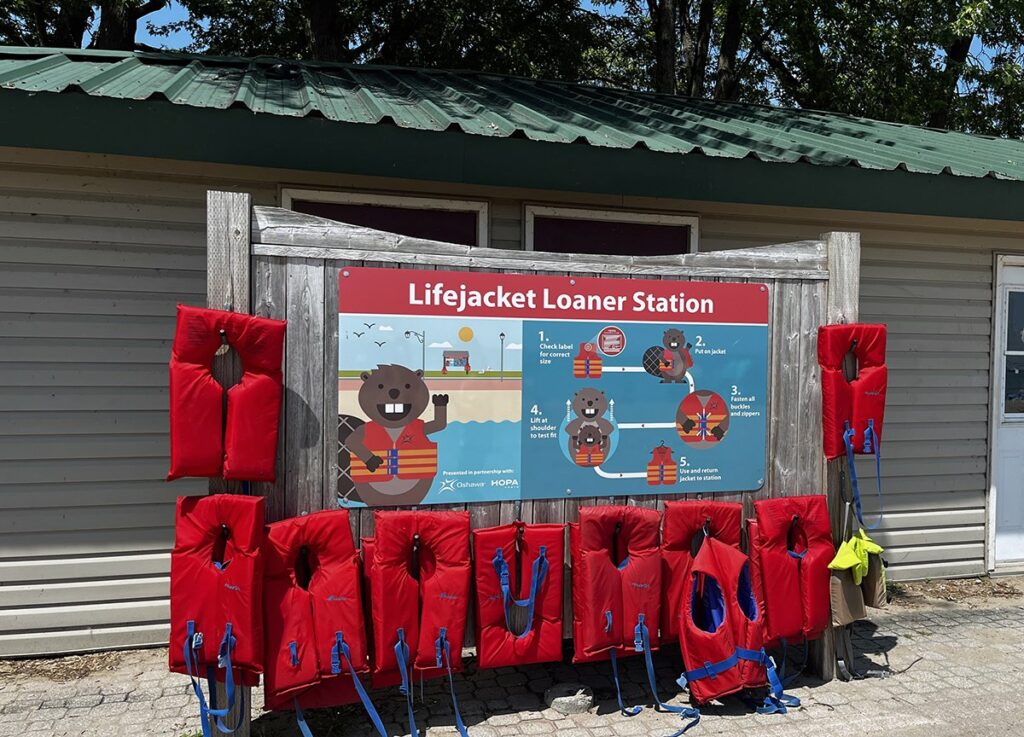 With the Lifejacket Loaner Program, visitors have free access to a wide selection of lifejackets in various sizes and styles (both vest and keyhole designs) while enjoying the beach.
Lifejackets are available both during and outside lifeguard hours. To borrow one, just look for the Lifejacket Loaner Station sign near the beach hut. Lifejackets must be returned after each use. For more information, visit Oshawa.ca/Lifejacket.
Beach goers should note that while lifejackets are an important tool, they do not replace the need for direct supervision and Water Smart Education.
Beach safety guidelines:
Check for beach closure at Durham.ca/beaches before visiting
Swim only in designated areas
Always swim while under supervision
Swim with a buddy

Becoming a Water Smart community
Most drownings are preventable in a Water Smart community. Educate yourself and others about water safety to enjoy water activities responsibly.
Supervise children around water at all times
Avoid consuming alcohol while participating in aquatic activities
Always wear a lifejacket while boating

For more information on Drowning Prevention: the Water Smart® Campaign, visit the Lifesaving Society's website at www.lifesavingsociety.com.
For City of Oshawa updates, visit Oshawa.ca/NewsCentre to follow us on social media, subscribe to news and alerts, and have your say on Connect Oshawa.
For more HOPA news and updates, visit www.hopaports.ca.
Quotes:
"Each year, we welcome thousands of visitors who come to enjoy our beautiful waterfront. Their safety is important to us," said Oshawa Mayor Dan Carter. "With the launch of the Lifejacket Loaner Program, the City of Oshawa and HOPA Ports are making a difference by putting more lifejackets in the hands of those who may not otherwise be able to afford or have access to them."
"Thank you to our partners at HOPA Ports who through the Lifejacket Loaner Program are helping us provide greater access to life-saving equipment for the many families who visit Lakeview Park Beach," said Councillor John Gray, Chair of the Community and Operation Services Committee. "A day at the beach should be just that – a fun time where everyone feels safe both in and on the water."
"We are proud to introduce the Lifejacket Loaner Program to Lakeview Park Beach," said Councillor Jim Lee, Vice-Chair of the Community and Operations Services Committee. "Together with HOPA Ports, the City of Oshawa is providing more opportunity for visitors to safely enjoy our breathtaking waterfront."
"We are proud to collaborate with the City of Oshawa to enhance water safety through the Lifejacket Loaner program," said Larissa Fenn, Vice President of Corporate Affairs at HOPA Ports. "We celebrate all the ways people enjoy the Great Lakes, including getting out for a summer swim at Oshawa's beautiful Lakeview Park beach."
– 30 –
Media contacts:
Mayor Dan Carter
City of Oshawa
905-436-5611;
Councillor John Gray
Chair, Community and Operations Services Committee
905-436-5605;
Councillor Jim Lee
Vice-Chair, Community and Operations Services Committee
905-436-5616;

Jim Naumovski
Director, Recreation Services
905-436-3311 ext. 5006;
Larissa Fenn
Vice President, Corporate Affairs
HOPA Ports
[email protected]