Property Management Services
Property Management Services
HOPA Ports offers expertise in the acquisition, development and management of marine and port-related facilities.
Projects:
Multimodal facilities
Warehousing and cargo
storage/handling
Industrial parks
Services:
Property joint ventures and partnerships

On-site property management and development services

Advisory services

Get in touch with us to discuss your next project.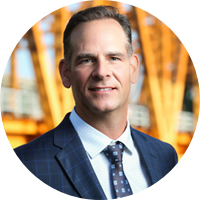 Vice President, Commercial
Featured Partner: BMI-Bioveld
HOPA has been working with Bioveld since 2020 to redevelop more than 600 acres of industrial land along the Welland Canal in Thorold, ON. Together we have brought new life to a former paper mill and auto parts manufacturing facility, bringing new investment and employment to the site. The new Thorold Multimodal Hub has emerged as an important driver of economic development. To-date, more than a dozen companies have moved into the Thorold Hub.
Max Aicher North America (MANA)
ince 2020, HOPA has actively managed property owned by Max Aicher North America; a 60-acre parcel at Pier 18 on Hamilton Harbour. The site is located in the northeast corner of pier 18, within Hamilton's Bayfront industrial area, and is served by marine, rail and road transportation. The property includes open space for outdoor storage, and more than eight acres of warehouse buildings.
HOPA has been deploying the space for a range of industrial projects, including commodity storage and logistics, as well as the assembly and staging of a deep-water cooling pipe.
HOPA and JAM Inc. partnered in 2017 to have HOPA take on management of a privately-owned site at Pier 23 in Hamilton. Today, the site is optimized for industrial uses, generating solid returns for its owners.
Private Sector & Municipal Partners
By bringing underutilized industrial properties into HOPA's Great Lakes network, private and public sector owners can revive and optimize multimodal industrial lands. Contact us to discuss how HOPA can help you build a prosperous and sustainable working waterfront in your community.