Green Marine
Green Marine is an environmental program that offers a detailed framework for maritime companies to first establish and then reduce their environmental footprint
Green Marine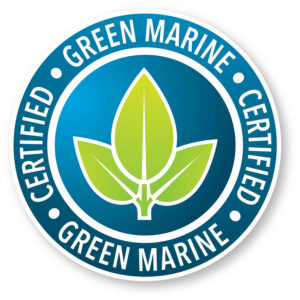 The Port of Hamilton is committed to conducting its operations in a sustainable manner. The Port has been a Green Marine participant since 2007, and acted as a founding member of the program.
Green Marine is a North American environmental certification program that stems from a voluntary initiative by the maritime industry to exceed regulatory requirements. Green Marine is a rigorous, transparent and inclusive program that targets prioritized environmental issues such as greenhouse gases, community impacts, and water and land pollution. To date, more than 125 ship owners, port authorities, terminals and shipyards from one ocean to the other in Canada and the United States participate in the program. The Green Marine program derives its uniqueness from the support it receives from environmental organizations and government agencies. These approximately 65 supporters contribute to shaping and revising the program.
The cornerstone of the Green Marine initiative is its far-reaching environmental program, which makes it possible for any marine company operating in Canada or the U.S. to reduce its environmental footprint by undertaking concrete and measurable actions.
To receive their certification, participants must benchmark their annual environmental performance through the program's exhaustive self-evaluation guides, have their results verified by an accredited external verifier and agree to publication of their individual results. The results determine the participant's ranking for each performance indicator on a 1-to-5 scale. Level 1 constitutes meeting the regulatory standard, while Level 5 indicates leadership and excellence.
The annual results are published in Green Marine's Annual performance report, at the end of May every year, and posted on Green Marine website: https://www.green-marine.org/certification/results/
Green Marine 2018 Results Hamilton Port Authority
Greenhouse gases:
3
Community impacts:
4
Environmental leadership:
4
Spill prevention:
4
Waste management:
3
HPA is a proactive participant within Green Marine and strongly believes that close working relationships between various Port users are instrumental in reaching greater sustainability. In embracing Green Marine, our terminal users show their commitment and willingness to work towards reducing the Port's total environmental footprint. Several HPA Port Partners are also committed to the Green Marine environmental program: Federal Marine Terminals, McAsphalt Industries, Yellowline Asphalt Products Limited, McKeil Marine, QSL and Sterling Fuels.
Advancing Environmental Excellence
Green Marine is an environmental certification program for the North American marine industry. It is a voluntary, transparent and inclusive initiative that addresses key environmental issues through its twelve performance indicators:
Aquatic invasive species
Dry bulk handling and storage
Community impacts
Environmental leadership
Garbage management (ship owners)
Greenhouse gas emissions
Oily water
Pollutant air emissions (NOx)
Pollutant air emissions (SOx and PM)
Prevention of spills and leakages
Underwater noise
Waste management (ports & terminals)
Founded in 2007 by the major marine associations and industry leaders in both Canada and the U.S., Green Marine has rapidly gained a reputation for credibility and transparency, and for challenging participating companies to improve their environmental performance beyond regulatory compliance.
The program was originally conceived for the Great Lakes and St. Lawrence corridor, but the interest it has generated throughout the marine industry has enabled it to evolve and cover North America in its entirety.
For detailed information about the Green Marine program, please visit www.green-marine.org