[:en]
One of the Great Lakes oldest youth sailing training programs ties up in Hamilton Harbour
HAMILTON – One of the Great Lakes best known tall ships, sail training vessel TS Playfair, will soon be making her home berth in Hamilton harbour thanks to the Hamilton-Oshawa Port Authority (HOPA Ports) and a hard working group of volunteers.
Playfair, specially built in Kingston as a sail training vessel and licensed by Transport Canada, has been taking generations of 13 to 18-year olds on sailing training courses for the past 48 years.
The volunteer run charitable foundation, Brigs Youth Sail Training, formerly known as Toronto Brigantine Inc., that owns and operates TS Playfair, has been looking for a new home for the past two years. "We have watched the tremendous redevelopment of the Hamilton Harbour for years and couldn't think of a better port for TS Playfair where Great Lakes maritime history is celebrated in Canada's busiest Great Lakes port," said Brigs Board Chair Francis Clegg who spent five years as a teenager on board TS Playfair rose to the rank of Watch Officer.
"We are pleased to welcome the Brigs educational adventure to the Hamilton waterfront. I know from my own personal experience what an extraordinary opportunity this will be for Hamilton-area youth," said Ian Hamilton, HOPA Ports President & CEO, who is himself a former sail training participant. "We think TS Playfair is a delightful addition to Hamilton's vibrant and changing waterfront. We're thrilled to be able to celebrate our port city and maritime tradition in this way."
TS Playfair is a 33 tonne, steel hulled, two-masted, square-rigged, 72-foot brigantine. She was christened in Kingston, where she was built in 1972, by Her Majesty Queen Elizabeth II making her the only Canadian ship to be commissioned by a reigning monarch.
A unique feature of the Brigs program is young people between the age of 13 to 18 manage and operate the vessel. On board are 28 people: 18 new sailors, called trainees, 10 youth officers and two adults, the First Mate and Captain. First Mates and Captains are licensed by Transport Canada. Most Captains and First Mates are graduates of the program.
Starting in 2021 and adhering to all CoVid restrictions, weeklong and weekend sailing training courses on board TS Playfair will be available.
"Brigs was a foundational experience for me," says former TS Playfair Captain, Rhys Weed. Weed, who lives in Hamilton, is now a Commanding Officer in the Canadian Coast Guard. "My time in the program as a kid shaped my professional and personal life in incredible ways. You're out there sailing the ship in all sorts of weather, working in watches with the other kids and traveling all over the Great Lakes. At the end of it all it turns out you've learned some life skills and had some great hands-on experience that will help you out whether you choose to go on to a marine career or not," he said.
Information about week-long and weekend 2021 courses on board TS Playfair, the organization and people behind it, its history and more, www.brigs.ca, instagram/brigs.sailing, facebook/brigs.sailing 416 596-7117, [email protected]
TS Playfair will be in Hamilton starting September 1, berthed at Harbour West Marina, close to the Leander Boat Club and Pier 4 Park, adjacent to the Royal Hamilton Yacht Club. The area is easily accessible by the waterfront trail.
-30-
ABOUT BRIGS: Brigs Youth Sail Training, formerly known as Toronto Brigantine, a charitable organization, began in 1962. It is committed to providing an educational adventure aboard a Tall Ship that develops youth leadership and citizenship in a maritime environment. The men and women who founded Brigs Youth Sail Training believed exposure to the challenges of a sea-going lifestyle benefits young people.
Since Brigs Youth Sail Training began, thousands of young people have participated in its programs. By working together, sailing, and managing a square-rigged ship, young people have discovered important lessons about life. More importantly, they've discovered themselves. They have learned how satisfying and fun it is to contribute. Brigs provides an environment, aboard ship and indoors during winter workshops, that fosters and rewards self-confidence, teamwork, responsibility, custodianship and leadership.
ABOUT HOPA Ports: Today, the Port of Hamilton handles over 10 million tons of cargo and is visited by over 650 vessels each year. This ranks Hamilton as the busiest of all Canadian Great Lakes ports. As an integrated port network, the Hamilton Oshawa Port Authority (HOPA Ports) offers innovative port and marine assets on the Great Lakes. They are developing multimodal spaces to support Ontario's industries and facilitate trade. By investing in high-quality infrastructure and prioritizing sustainability, they are building prosperous working waterfronts in Ontario communities. To learn more, visit: www.hopaports.ca
NOTE TO NEWS DESKS: For hi res photos and video of TS Playfair visit Brigs.ca/media; financial statements, history available at www.brigs.ca
For interviews with Brigs board chair Francis Clegg, Hamilton area officers, crew and alumni, please contact Rosemarie Enslin, Volunteer Comms Lead, Brigs Transition Team 416 684 4410, [email protected]
Media contact for HOPA Ports: Larissa Fenn Public Affairs Director HOPA Ports
(905) 525-4330 EXT. 235 Cell: (905) 518-7632 [email protected]
Posted Sept. 2 2020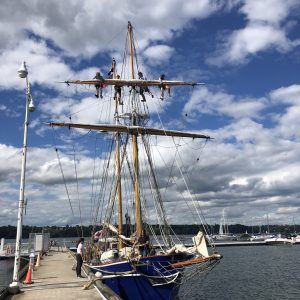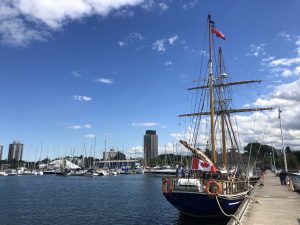 [:]