204 Hillyard St. (Shed 11) Redevelopment
What is happening on Hillyard?
HOPA is redeveloping the large industrial warehouse at 204 Hillyard Street. The project includes renovating portions of the building to better accommodate existing tenants. Another unusable portion of the building is being demolished and removed.
Why is this project taking place?
HOPA is currently redeveloping the western portion of the port lands to create new cargo and employment areas. Shed 11 is an older warehouse complex that doesn't meet the needs of modern users. Through this redevelopment, we will be able to use the space more efficiently, and accommodate more employment uses.
What will be taking place on-site?
HOPA hired GS Wark Ltd. as the general contractor. Their work includes:
Installing new utilities (water main, sanitary sewers, electrical service, gas service).
Safe removal of any designated substances.
Renovating the portions of the building that will remain, including installing new exterior cladding, windows and doors.
Demolition of identified portions of the building.
Removal of all waste from the site, including recycling of metals and other materials.
Recycling all concrete, brick and block, by crushing it into gravel for re-use on the construction project.
Installing perimeter fencing and landscaping.
Health and safety is our highest priority. As part of our preparation for this project, we hired an industrial hygienist to identify all designated substances (such as PCBs, asbestos or lead), and to oversee their safe removal prior to demolition. The contractor is also required to prepare an Environmental Protection Plan to ensure that the surrounding environment is protected.  The plan includes specific measures such as:
Work is only allowed during the windows set out in the City of Hamilton's Noise Control By-law.
The contractor is responsible for managing any dust generated by the project. They will be required to do misting in order to reduce the amount of dust during construction. They will monitor wind speed and direction, and will adjust their operations as needed.
Silt and erosion control will be addressed with silt fencing at the perimeter of the job-site.
A pest control plan will ensure that any pests in the warehouse are removed prior to demolition.
When will the project finish?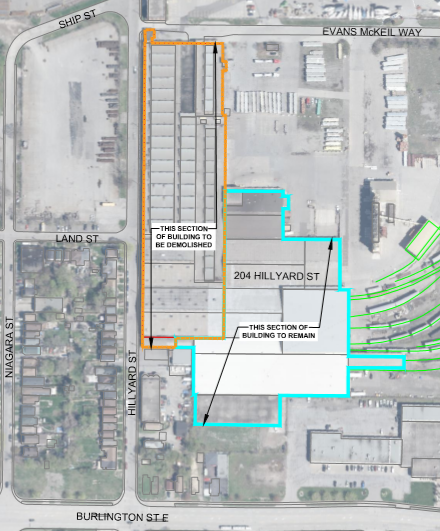 The demo will be complete by mid-October. Because of open space, you may have experienced at bit more noise in the area, but so far, vibration levels have been below max. threshold. Once the demo is over, the empty space will be paved.
What will it look like when it's done?
The sketch shows the updated layout of the building. Renovated portions of the building will have new cladding, and the areas next to the street will have new fencing and landscaping.
Who can I contact with questions?
If you have any questions or concerns as the project proceeds, please contact:
Larissa Fenn
Director, Public Affairs
Hamilton-Oshawa Port Authority
905-525-4330 ext.235
lfenn@hopaports.ca