It was a fun summer in our Port City – check out some of the highlights and what's coming up next:
Ahoy! Tall Ships sail into Hamilton Harbour for Canada 150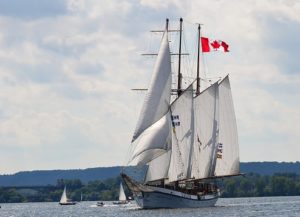 The Tall Ships were back in Hamilton Harbour this summer for a spectacular celebration. Eleven Tall Ships participated in the Rendez-Vous 2017 showcase tour that spanned several ports in Europe and North America.
The Tall Ships arrived in Hamilton Harbour just in time to celebrate Canada's 150th on July 1. An estimated 47,000 people came down to view the Tall Ships over the Canada Day weekend.
HPA was pleased to partner with the City of Hamilton to bring the Tall Ships to Pier 8, and helped make a memorable day with family activities on the waterfront.
Supporting the Cootes to Escarpment Eco-Park
HPA has made a $5,000 contribution to the Cootes to Escarpment Eco-Park System. This connected natural corridor is one of the most ecologically-rich areas within the Great Lakes Basin, connecting Hamilton Harbour and its surrounding watershed to the Niagara Escarpment. This partnership is important to HPA because stewardship of Hamilton Harbour and its watershed is one of our core principles.
Harbour Queen Tour: Getting to Know Hamilton's Working Waterfront
This July, HPA hosted a free public tour aboard the Hamilton Harbour Queen. Approximately 85 community members came along for the two-hour boat trip, which offered a guided tour of the port lands, an overview of the history of the port, and current land uses. We were happy to receive positive feedback from the tour, and hope to make it an annual event.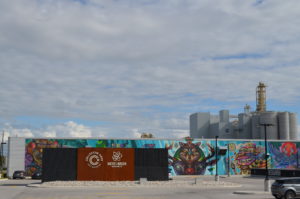 A new landmark in the North End
A colourful new addition has emerged along Burlington Street. Commissioned by Collective Arts Brewery, with support from HPA, artists Bruno Smoky, Shalak Attack, Peru143 and Chris Dyer along with Hamilton muralist Jordan Warmington have created a bright mural adjacent to the brewers' outdoor beergarden.
"Our vision for Collective Arts is to not only be a destination for beer, but also a place to come to experience world-class art and music. This is a step in creating that experience and also a way to show our long-term commitment to Hamilton," explains Matt Johnston, CEO of Collective Arts Brewing.
The wall is part of an industrial complex owned by the Hamilton Port Authority. "The brewery is an important transitional space on the waterfront between the industrial east and the redeveloping west harbour. We love what Collective Arts has done to integrate the brewery with the neighbourhood, with their taproom, event space and outdoor beergarden. The mural will be a vibrant landmark and a defining feature of Hamilton's working waterfront." Ian Hamilton, President & CEO, Hamilton Port Authority.​
Coming up: Walking / Bike Tours
Would you be interested in joining a small-group walking or biking tour of Pier 15, one of the port's busiest shipping piers? Contact us at [email protected] / 905.525.4336 for dates.