HOPA is adding a noise wall barrier on behalf of our stevedoring partner Federal Marine Terminals. This wall will be 6-meters-high and 90-meters-long on the west side of Wentworth St N, east of the Wentworth slip, in order to reduce noise from cargo activity from disrupting residential and industrial neighbours nearby.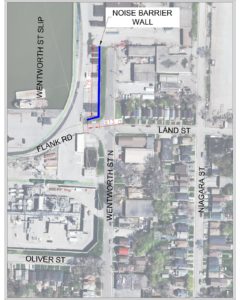 Where is the wall being added, why, and when will it be complete?
Construction of the noise wall is currently underway at the very northern end of Wentworth St N. The wall is a required noise mitigation measure specified by the Ministry of Environment, Conservation and Parks. It should be complete by mid-March.
What is the wall made of?
The panels are comprised of a precast concrete core and their outer layer is made of absorptive cemented wood chip fibres. This composition allows for the sound energy to be absorbed into the panels.
How will it be installed?
Groundbreaking Foundations Inc. is the contractor installing the noise wall structure on site. The wall's panels will be stacked on top of each other by sliding them between two galvanized steel posts. The installation of a concrete foundation and steel posts is already underway and installation of the panels is scheduled to start next week.
Who can I contact with questions?
If you have any questions or concerns as the project proceeds, please contact:
Emily Paivalainen | 905-525-4330 ext.256 | [email protected]