COVID-19 Policy and Attestation
COVID-19 VACCINATION POLICY and ATTESTATION: HOPA CONTRACTORS and PORT TENANTS
PURPOSE
This policy establishes that all HOPA contractors and tenants operating on HOPA property must attest that they are fully vaccinated against COVID-19 on or before January 24, 2022.  HOPA will make exceptions for those that are unable to get vaccinated based on a Certified Medical Contraindication.
OBJECTIVE
The objective of this policy is:
To protect the health and safety of HOPA stakeholders by taking all reasonable measures to prevent the spread of COVID-19; and
To comply with the request of the Canadian Government to require all stakeholders operating on Federally Regulated Port Property to be vaccinated subject to limited exemptions.
APPLICATION
This policy is applicable to all HOPA contractors and tenants operating on HOPA property and their employees.
DEFINITIONS
"Certified Medical Contraindication" means a medical condition that prevents an individual from safely obtaining a COVID-19 vaccine as evidenced by a letter from a physician who is licensed to practice medicine and who is a member of the College of Physicians and Surgeons of Ontario (or equivalent body from another Canadian province) clearly stating why an individual should be exempt from receiving a COVID-19 vaccine.
"HOPA Contractors" means any individual or employees of an organization hired by HOPA to perform work on HOPA properties on a contractual basis.

 

"Tenants" mean a business, organization or corporation that leases any HOPA property or real estate for a period of time and where there is a contractual obligation between the two parties, and employees thereof..
"Fully Vaccinated" refers to:
a) having received both doses of a Health Canada authorized vaccine that requires 2 doses to complete the vaccination;
b) having received all doses of a mixed dose Vaccine series that aligns with NACI Recommendations on the use of COVID-19 vaccines; or
c) having received 1 dose of a Vaccine that only requires 1 dose to complete the vaccination series;
at least 14 days prior to submitting this attestation.
"NACI" means the National Advisory Committee on Immunization.
"Partially Vaccinated" refers to having received only one dose required for a COVID-19 vaccine(s) approved by Health Canada that requires two doses (e.g., one dose of a two-dose vaccine).
"Privacy Act" means the Privacy Act (R.S.C., 1985, c. P-21).
"HOPA" means the Hamilton-Oshawa Port Authority.
"Vaccine" means a COVID-19 vaccine approved by Health Canada.
SPECIFIC RESPONSIBILITIES
As of January 24, 2022, all HOPA contractor employees and tenant employees operating on HOPA property must be Fully Vaccinated except those exempted as outlined below.
HOPA contractors and tenants covered by this Policy must prove they are Fully Vaccinated through the submission of a formal attestation to HOPA in the form prescribed at Schedule "A."
CONSEQUENCES FOR NON-COMPLIANCE
 

HOPA contractor and tenant employees who do not attest that they are Fully Vaccinated by January 24, 2022 and in accordance with this policy will not be permitted on HOPA property until such time as they can attest that they are Fully Vaccinated.
HOPA contractor and tenant employees who make false attestations related to vaccination status will be subject to a six (6) month trespass period from HOPA Property.
EXEMPTIONS
HOPA will exempt individuals from the requirement to be Fully Vaccinated against COVID-19, if an individual cannot be vaccinated due to a Certified Medical Contraindication. Individuals must complete Part 2 of Schedule "A" and provide required documentation as set out in this Policy by January 24, 2022.
PREVENTION OF HARASSMENT, BULLYING OR DISCRIMINATION
HOPA contractors and tenants are responsible for ensuring there is a respectful, productive, inclusive, and equitable environment. HOPA contractors and tenants, or their employees therefore shall not conduct any acts of harassment or other prohibited conduct toward any individual for any reason, including based on vaccination status.
PROTECTION OF PRIVACY
Personal information will only be collected, retained, used and disclosed by HOPA in a manner that respects the provisions of the Privacy Act and other applicable legislation.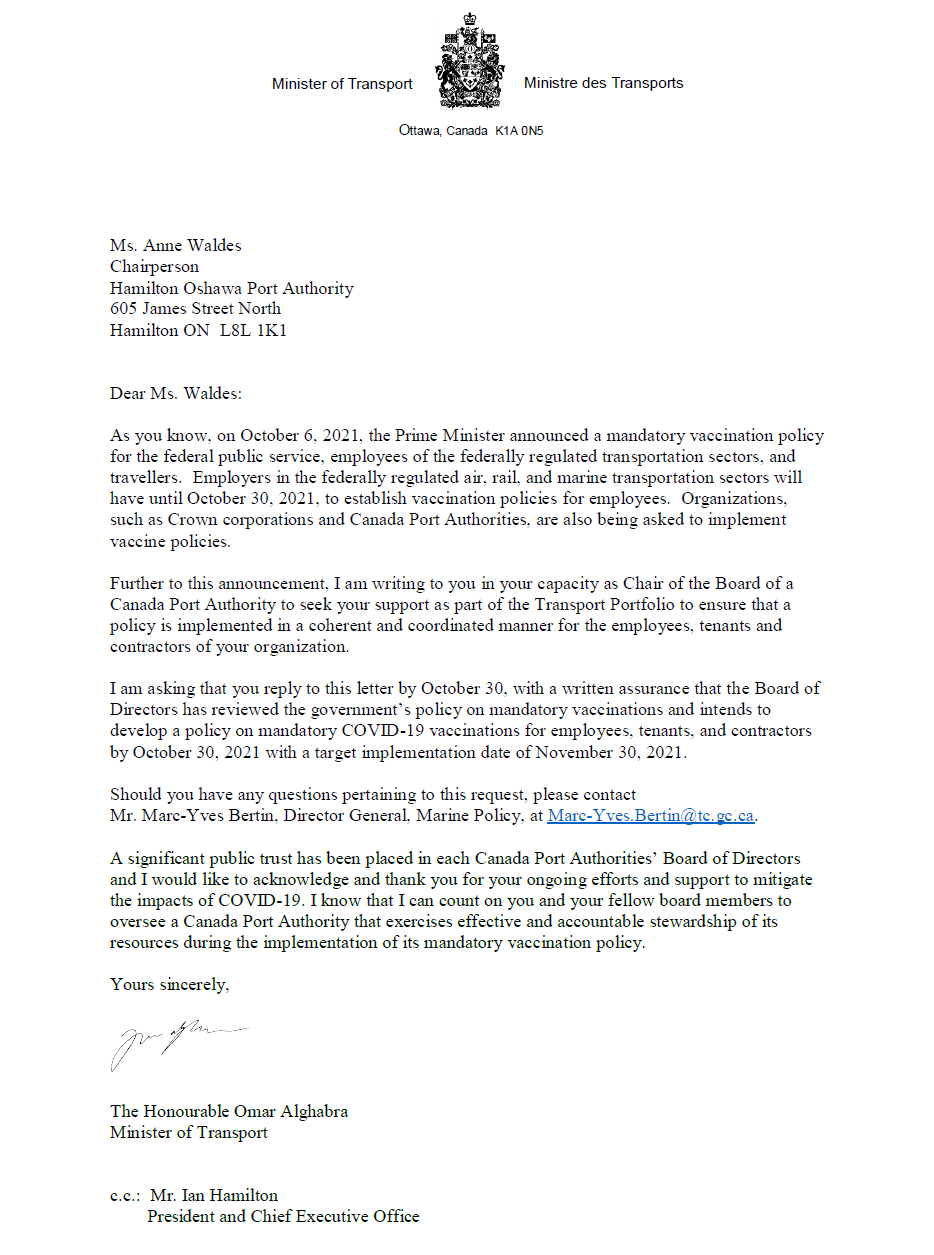 Note:  Vaccination records will be maintained confidentially by HOPA. Information will only be shared with those who have a need to know and in accordance with HOPA's COVID-19 Vaccination Policy.