January 21, 2021
St. Catharines, ON – Through a new collaboration, Brock University and HOPA Ports (Hamilton-Oshawa Port Authority) want to help put wind in the sails of Niagara's economy.
Both committed to enhancing the life and vitality of the region, the two organizations formalized their partnership by signing a new Memorandum of Understanding (MOU) during a virtual event on Friday, Jan. 22.
The agreement will see Brock and HOPA Ports work together to provide experiential learning opportunities, including co-op placements, and to pursue research collaborations that support marine and industry needs.
Offering port and marine assets on the Great Lakes, HOPA Ports recently announced an expansion into Niagara, with plans to showcase the region's prime access to water, road and rail transportation. The port authority develops multimodal spaces to support Ontario's industries, facilitate trade and build prosperous working waterfronts.
"Brock University is pleased to form partnerships that can provide new learning opportunities for students, enhance our shared contributions to the community and build on research initiatives with potential to impact Niagara region and beyond," said University President Gervan Fearon. "Our partnership with HOPA Ports will benefit Brock's students, faculty and staff, but also aims to have a positive effect on future economic development in the region — a key priority for the University."
Brock and HOPA Ports will look at ways to contribute to local businesses through the partnership, and to support the growing need for skilled professionals in the marine and transportation sectors.
This collaboration further enhances Brock's ongoing commitment to community engagement, which, among other initiatives, has taken shape through the creation of MOUs with local health-care providers, community support agencies and other partners. Through those partnerships, the University's goal is to create meaningful relationships that support Niagara's social and economic development.
"As HOPA Ports expands into the Niagara region, we are excited to formalize our partnership with Brock University — a truly progressive, innovative and eminent local leader," said Ian Hamilton, President and CEO of HOPA Ports. "We intend to create a bridge between academia and the sectors we support in the marine industry. Brock's programs with a focus on business, humanities, environmental sustainability and engineering will be key to celebrating Niagara's unique marine history and helping us carry it forward into future success."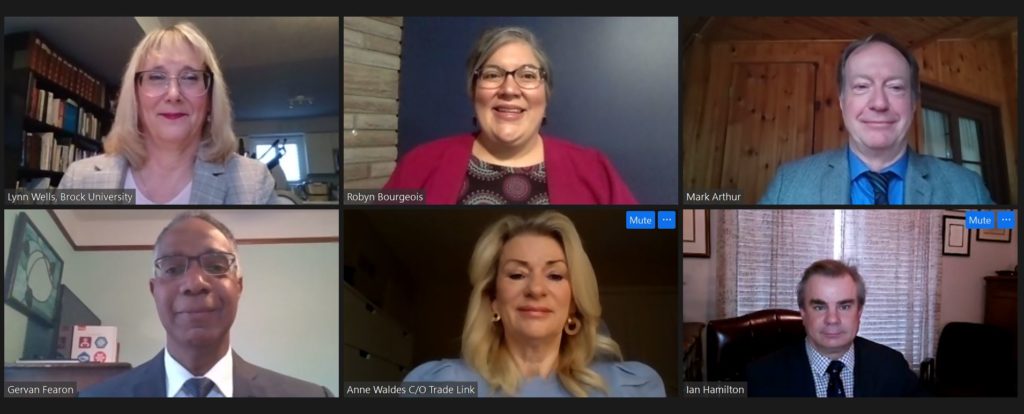 The collaboration will help support the development of Brock's Engineering programs announced last year and will expand on both organizations' commitment to the environment and the region through the creation of research and practical implementation strategies for climate change adaptability, resilience and sustainability.
"As Brock continues to expand its reach and programming to include engineering, HOPA Ports will offer valuable industry insight that will benefit students throughout their educational journey, and in their transition into the workforce following graduation," said Lynn Wells, Brock Provost and Vice-President, Academic. "The partnership will cross several academic disciplines, involving students from a number of Faculties and departments across the University and providing them unique learning opportunities related to the marine sector."
That sentiment was echoed by HOPA Ports Board Chair Anne Waldes.
"By working together, HOPA Ports and Brock University will continue to innovate, across sectors and disciplines, to bring transformational community projects and learning experiences to Niagara's next generation of leaders," she said.
Mark Arthur, Chair-Elect of Brock's Board of Trustees, said the partnership aligns with the University's strategic priorities and has great potential for further enhanced collaboration down the road.
"We're just as excited to partner with HOPA Ports as they are to be expanding in the Niagara region," said Arthur, whose term as the head of Brock's board begins in June. "With innovative community partnerships like this one, the opportunities are endless."
 A video about the collaboration can be found here.
For more information or for assistance arranging interviews:
* Dan Dakin, Manager Communications and Media Relations, Brock University [email protected] or 905-347-1970